Upcoming Event
Win this turn key LS1 & 4L60 complete pullout and free tune.
Get your ride ready for the Mississippi Street Rod Association 45th Annual car show coming up May 19th-20th at Trustmark Park in Pearl, MS. Every vehicle registered and entered in the show will be eligible to win the drawing for the grand prize pullout that will be given away at the end of the show. Winner gets everything but the stand and headers. 46k mile LS1, rebuilt 4L60 transmission, belt drive accessories, PSI standalone harness, PCM, accelerator pedal, all sensors, and tune. After installation is completed KAR Performance in Byram, MS will tune for you for FREE. Registration fee $25. Pre-registration $20. Deadline May 12th.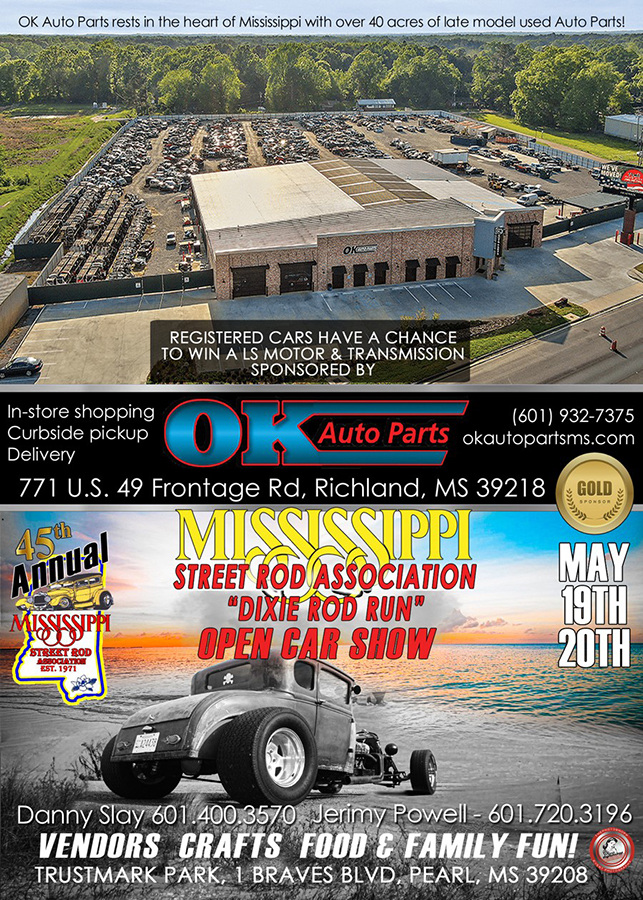 Past Events Photo Gallery Below!
2022 MSRA Car Show
2021 MSRA Car Show
2021 Cars & Coffee
2020 MSRA Car Show
2019 MSRA Car Show
2019 Cruising The Coast
2018 Cruising the Coast
Store 1
Richland Ms
Call Us
Toll Free 1-800-748-7539
Local 601-939-5646
Let us help you find the part you need, click below to call us or get driving directions to the Richland, Ms store
Store 2
Richland Ms
Call Us
Toll Free 1-877-393-1748
Local 601-932-7375
Let us help you find the part you need, click below to call us or get driving directions to the Richland, Ms store
Store 3
Biloxi Ms
Call Us
Local 228-207-5574
Alternate 228-207-5613
Let us help you find the part you need, click below to call us or get driving directions to the Richland, Ms store
Tuesday
7:30 AM - 5:00 PM
Wednesday
7:30 AM - 5:00 PM
Thursday
7:30 AM - 5:00 PM